Basketball tournaments – France – Belgium – 2023
Come and play in these 2 Basketball Tournaments in France and Belgium in May and June 2023
We formally invite your club to come and participate to these 2 great events based in the east of Lille/Belgiu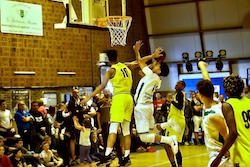 Details :
These 2 tournaments gather teams from France and Belgium and give you an unique chance to play basketball sides in a great atmosphere. Only 10 teams are able to enter each tournament. You will play medium level sides from the north & east of France as well as from the whole Belgium. Games start in the morning and finish in the late afternoon. An award will be given to the best players (boys and girls) as well as the best "fair play". Games Duration : 2 X 15 minutes.
Accommodation in hotels in Lille and around. Transport can be organized for your teams on request. The BB club is only at 20 minuets away.
ComeOn Sport help every year many basketball teams in coming to France either to play some competitive friendly games or to attend to some basketball tournaments.
Due to the limited space, we kindly ask you to book your teams as soon as the 1st June 2019. Basketball Teams that are interested in these tournaments can contact our agency fro more details. Only 10 teams per category, 1/3 are from Belgium, 1/3 are from France and 1/3 come from the rest of Europe.
Price : 199 euros per person for 4 days / 3 nights including accommodation with breakfast in hotels, meals at the club and tournament entry.
Price with transport : 289 euros per person including return coach transfers from the local airport or Lille train station + daily shuttles to the tournaments