International Basketball Tournaments
7th – 8th January 2023 Luxemburg – 27th 28th May 2023 – Belgium – U17-U15 Boys & U17 Girls
ComeOn Sport is delighted to present these 2 international tournaments that will be held in Luxemburg on the 1st week-end of January (7th and 8th January 2023) and Belgium on the week-end of Friday 26th to Sunday 28th May 2023. Organised in a basketball club near the city of Luxemburg in January and near Liège in May, the basketball clubs will have 4 places for foreign teams in order to welcome BB teams from many regions of Belgium, France, Luxemburg, Netherland, Germany and the UK
A new tournament with a very friendly BB Club in Luxemburg (January 2023)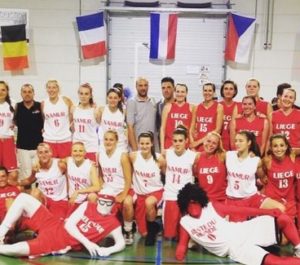 and a long established tournament (has been organised for 28 years) for the one in Belgium in May.
This tournament is one of the greatest basketball tournaments for boys/girls held in Belgium in these 2 categories. Very well organised, the hosting club is known all over Belgium.

Level : regional sides/district sides.

Categories of the Tournament in Luxemburg : Boys U12/U14 and Girls U12/U14
Categories of the tournament in Belgium : U15, U17 boys.
Games : 2 X 15 minutes. 15 minutes between each game (can be changed)
5 meals are included in the package as well as the official T-Shirt of the event.

PROGRAM :
The tournament starts on the Saturday am with presentation and games. End of the tournament on the Sunday 5pm. Each team will play 7 matches during the tournament.
Games all day on Saturday and Sunday.
Basketball Teams must arrive on the Friday early pm or better, the day before if they can.
Prices : from 169 euros per person including 2 nights with breakfast in hotels near the club, all lunches & dinners (5 meals) during the 2 days.
No transport.
Teams needing coach transfers or daily shuttles can ask our agency and we will arrange it (price upon request).
We formally ask foreign teams that are interested in this tournament to contact our agency ASAP. ComeOn Sport can registrer your team, arrange accommodation and hire coaches transfers and take care of your team. Tour manager provided is requested.
Package with transport :  Price : from 289 euros per person including accommodation, transport from/to Brussels Airport, Daily shuttles, meals at the club and tournament entry.