Basketball tours to France. Youth teams, junior or seniors teams. Boys/girls. Choose ComeOn Sport. #basketball
ComeOn Sport welcome every season many basketball teams and clubs and provide them a high service or level and competitive games. Basketball was introduced in France in 1893, in England the year after (1894). Fre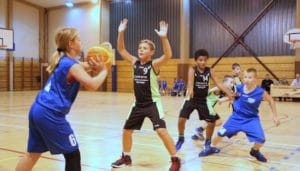 nch Basketball is played at medium/high level almost every in our territory and this is why foreign teams like touring our country and participating to tournaments. ComeOn Sport provide your team with everything : accommodation, transport, games, some sightseeing etc..
ComeOn Sport is pleased to work with many basketball clubs and teams all around the country and can provide your club/schools with several basketball games during the tour. Matching your needs and budget, we provide competitive games and are product to welcome over 20 BB teams every season in France and Belgium. Wherever your basketball team or school come from NY, Los Angeles, Cork, Dublin, Berlin, Copenhagen, Bristol or London, rely on ComeOn Sport for your basketball trip. Depending on your level (school, regional, national or Elite), we arrange games here with the appropriate teams so that the level fit yours. It's important to fit the level when games are arranged. Depending on the age group, we provide you with appropriate games too with the correct age group, taking into account, that, in France and Europe, the system works on a different basis.
Example of program in Paris : 4 days / 3 nights in Paris : accommodation in a good youth hostel or hotel, return coach transfers from the airport, all transfers doing the week-end, 1 or 2 basketball games, some sightseeing, and as an option : day trip to Disneyland Resort. ComeOn Sport can hire coaches transfers on request and take care of your teams. Price : 199 euros per person including local transport.
ComeOn Sport also organise basketball teams preparation with providing coaches with high level games. Send us an email to learn more. All our tours are tailor made and we take care of all details.When travelling to France, choose a reliable agency. Choose ComeOn Sport