The 8th edition of the U15' Basketball tournament of Nantes will be held during the weekend of 17th-18th June 2017. Come and play in this U15' basketball tournament organized near the great city of Nantes, Brittany (West of France) and compete with teams coming from different countries !
U15' boys (born in 2002-2003) U15' girls (born in 2002-2003)
Good level. National.
Official referrees.
Limited Space. Teams must be composed of 12 players & 2 staff/coaches maximum. Parents and supporters can come over too on request.
The tournament starts on the Friday 16th June from 6pm with the opening ceremony and celebrations and will finish on the Sunday 18th June around 6.30pm with the trophy ceremony and awards. Played in 2 gymnasiums and 2 courts situated at the same place, the games are played during the 2 days. Only 8 boys teams and 8 girls teams will be able to enter the tournament. Duration : 5 games for each teams. Gala dinner on the Saturday night for all teams. Snacking and music all days. An award will be given to the best players (boys and girls) as well as the best "fair play"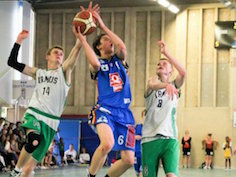 Accommodation in hotels or possibility of being accommodated in french families. Transport can be organized for foreign teams on request.
Teams that are flying to Nantes or any other airports : ComeOn Sport can hire coaches transfers and take care of your teams.
Price : 69 euros per person including local transport (accommodation in families)
For hotels accommodation (2 or 3 star-hotels) and private transport from/to airport, the price per person needs to be quoted on request. Day trip to Nantes can be organized on request too.